The knee slide is the most devastating celebration in football history – and not in a good way!
Every time I watch a football highlights show, at least 10 percent of goalscorers celebrate their achievement by skidding across the turf.
The celebration might look cool when it's executed perfectly, but is it really worth it?
In this article, I present to you a few cautionary tales of footballers whose knee slide attempts went spectacularly wrong.
5. Romelu Lukaku banned himself from knee slides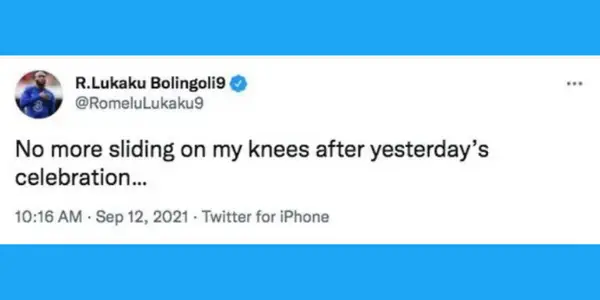 Romelu Lukaku scored twice in Chelsea's 3-0 win over Aston Villa in the Premier League in September 2021. The first goal was pretty good, but the knee slide celebration was anything but.
The Belgian striker pointed to the sky and kissed the Chelsea badge as he wheeled away to celebrate his first Stamford Bridge goal for the Blues.
Then… disaster struck.
The surface wasn't slippy enough that day to provide the necessary slide-ability that Lukaku was looking for. Big Rom threw himself knee-first into the ground and immediately tumbled over into a giant heap.
He wrote on Twitter the next day that he did not plan to perform the knee slide celebration again.
4. Ole Gunnar Solskjaer suffered an injury
Ole Gunnar Solskjaer scored the most important goal of his football career in the 1999 Champions League final. Two minutes after Teddy Sheringham's injury-time equaliser, the Norwegian legend popped up with a close-range effort to seal a dramatic 2-1 win for Manchester United against Bayern Munich.
While Peter Schmeichel famously cartwheeled away in jubilation at one end of the pitch, Solskjaer pulled off a pretty decent knee slide to celebrate his match-winning goal.
The celebration looked good, in fairness, but it ultimately led to an injury.
"I did get injured and I did tweak my medial ligament," Solskjaer told ESPN in 2019. "It was nothing to do with my [later] injury but I missed two or three weeks and a couple of internationals for Norway. But it was worth it. The celebration was worth it."
As Solskjaer alluded to, a rumour has existed for several years that the Champions League final knee slide contributed towards his retirement in 2007. However, he clarified that the speculation was false.
3. Eden Hazard abandoned his knee slide celebration
Eden Hazard used to be the king of the knee slide.
Back in his Chelsea days, the Belgian loved skidding his shins off the surface as he slid off to celebrate dozens of goals for the club.
That was until he banned himself from executing the knee-bruising technique in September 2018.
"Look, look, the celebration – the sliding knee," Hazard said to Chelsea TV (via Daily Mail) while pointing at bruises on his legs. "I need to stop this. My knees – they are on fire! No more of this celebration."
Hazard's goals dried up shortly after his self-imposed knee slide ban. He also suffered a ton of injuries following his 2019 move to Real Madrid – 18 in three-and-a-half years, to be precise.
Some of those were knee injuries…
2. Arjen Robben ripped his tights doing a knee slide
Arjen Robben scored both goals for Bayern Munich in a 2-0 win over Eintracht Braunschweig in the Bundesliga in November 2013.
While I can applaud him for that, I can't accept what the Dutchman did to celebrate his first goal.
After nodding in a second-minute header, Robben ran off to the corner and absolutely slammed himself knee-first into the grass. The surface had zero skid to it, meaning he jarred both knees and rolled over onto his left shoulder.
The Bayern man's red thermal tights even took a battering in the process. The fall left him with grazes on both knees, which were visible due to the tights immediately splitting after the epic knee slide failure.
Robben's second goal – a classic cut inside from the right and left-footed finish – came in the 30th minute. Thankfully, he ditched the slide celebration for that goal and hugged Toni Kroos instead.
1. Fabinho got his knee slide all wrong
Ibrahima Konate scored the opening goal in the first leg of Liverpool's 3-1 Champions League quarter-final win over Benfica in April 2022.
Konate perfected a successful knee slide after racing away to the corner. His teammate Fabinho, on the other hand, wasn't so lucky.
The Brazilian tried to copy Konate's celebration. However, he caught his left knee in the turf and fell awkwardly onto his right side.
The botched knee slide might have caused some embarrassment, but at least it didn't result in an injury!